OUR PROFESSIONALS
Our team is made up exclusively of audioprosthetists who are members of the Ordre des audioprothésistes du Québec. Aiming to provide you with the best services possible, we are always on the lookout for the newest trends and recent developments in our field. We work closely with other health professionals such as doctors, otorhinolaryngologists, audiologists and speech pathologists.



A message from Pascale Bolduc, Audioprosthetist at the Gatineau sector clinic
"Our clinics are known for the quality of service we provide to our clientele. The hearing aids we offer are adjusted according to your specific needs with the best technology on the market. We personally identify your needs and I make sure that I am always available for you.
Making an appointment with us is quick and easy."
A message from François Sasseville, Audioprosthetist at the Hull sector clinic
"As a health professional who has met thousands of people living with hearing problems, I understand the difficulties that this situation can create in your daily life. In addition to improving your quality of life, taking care of your hearing also improves the lives of your loved ones. You can put your trust in our team
and I guarantee that you won't be disappointed."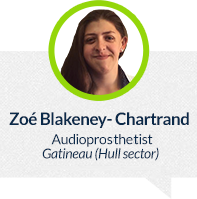 Zoé Blakeney-Chartrand, Audioprosthetist at the Hull sector and Gatineau clinic
Being hearing impaired myself, I am uniquely placed to understand and advise you. I put my trust in the RÉSEAU VOSOREILLES to advise me and care for my hearing since childhood. After my studies in
Audioprosthetist
I joined this devoted and professional team, which is at the forefront of technology.
A message Luc Parent, Audioprosthetist at the Greenfield Park clinic
"I have been an audioprosthetist for over 28 years and, over the years, I have noticed the strides made in hearing aids, equipment and techniques used for their installation and adjustment. Our clinics have a reputation for closely following these developments in order to offer the best services around in the field of hearing health. The hearing aids we offer are adjusted according to your specific needs with the best technology on the market. We identify your personal needs and we are always available for you. We therefore make it easy for you to schedule an appointment
with us at a time that is most convenient for you."



A message Marie-Noëlle Gagné, Audioprosthetist at the Greenfield Park clinic
"I join Le Réseau VosOreilles with the same professional values ​​that my colleagues already in place have. We offer a personalized customer service which will help us determine your needs in terms of hearing and will improve your quality of life using the various technologies available on the market . Do not hesitate to contact us; we will be pleased to help!"
A message Anne-Marie Parent, Audioprosthetist at the Greenfield Park clinic
"We are committed to providing personalized services and identifying your hearing needs during your visit. Our goal is to create a pleasant environment and to help you hear better using all of the best technologies on the market. Come pay us a visit! We'll be happy to take care of you."
with us at a time that is most convenient for you."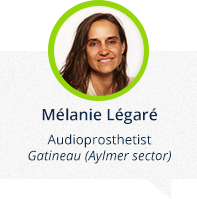 Mélanie Légaré, Audioprosthetist at the Aylmer sector clinic
«Constant technological advances in hearing aids make them more and more efficient. Ensuring those enhanced features are well aligned with your day-to-day needs falls upon your hearing care professional.

Knowing your needs evolve, we schedule follow up visits to ensure you remain comfortable with your hearing aids. Working with you, we aim to draw the full potential of your hearing aids so you can consistently enjoy great hearing.»



A message from Sarah Désilets, audioprothesist at the Trois-Rivières clinic
« Our team of professionals is reliable and sensitive to our customer's needs. We take great pride in being able to address your specific needs using state-of-the-art devices. We offer personalized follow-ups to help you get the best results possible and regain the pleasure of hearing. Come and see us! »
A message from Marc St-Pierre, Audioprosthetist at the Greenfield Park and Beloeil clinics
By offering a quality personalized service, we will advise and assist you throughout your auditory journey to recover a certain quality of life for you and your loved ones, as well as the pleasure of hearing again! Do not hesitate to come and meet us, it will be our pleasure to help you!
Our partner audioprothesists
A message from Mathieu Baribeau, Audioprosthetist at the Westmount clinic
The exploration of the world of sound has been his passion for more than 25 years. Mathieu is a professionally trained pianist and composer, a graduate of Berklee College of Music in Boston; he is a life long audiophile, and has been an audioprosthetist since 2013.

It is with empathy, competence and patience that he will welcome you in one of our clinics to answer to all your auditory needs.
A message from Marc Lafrance, Audioprosthetist at the Montréal clinic
Marc has been passionate about electronics since childhood; he refined his skills working as a sound technician while pursuing his studies to become an electrical engineer. A graduate of Laval University he has over 20 years experience in aeronautics and 3D animation.

He has been a member of the order of Audioprosthetists since 2007. He will offer his expertise in order to guide you in making the best choice for achieving and maintaining your auditory potential.
A message from Amélie Ethier-Murfitt, Audioprosthetist at the Montréal clinic
20 years of experience with sound engineering in the television and entertainment industry has endowed Amélie an acute sense of hearing and meticulous attention to audio detail. Following the birth of her two children, Amélie has expanded her horizons to assist people with hearing challenges to appreciate sound, music and to engage with others.

She has worked with the Baribeau-Lafrance hearing clinic since her beginnings in 2016.
Our support staff
Rachel is cordial, welcoming and devoted. She is devoted to the satisfaction of our patients. Everyon
lucky to have Sylvie on our team. She is passionate about her work and very efficient. Her sense of humour and the warm welcome she gives to customers help make your visit a pleasant experience.
Kimberly is native of Venezuela. She is known for her kindness and for her experience. She will gladly greet you with a smile